Suppliers
These are some suppliers of glassblowing equipment I use all the time and would recommend to anyone.

Northern Heat Protective Products
Quite a while ago I replace my folded newsprint shaping pad with a Gott Hand Shaping Pad, and have never been happier. The wetted newsprint used to smoke and flake carbonized newsprint all over everything. I had trouble sleeping after a studio session because of the smoke particles in my sinuses. Since converting to the Gott Hand Shaping Pad, those problems disappeared. In addition, the graphite and cotton pad holds moisture better than paper, provides superior hand protection from the heat, and wears for many months.

When I build the Tin Shack Studio, I wanted a better interior base for my annealer than dusty old bricks. I installed a hexagonal kiln shelf on clay supports, and topped it with the Gott Kiln Shelf Liner. This graphite sheet not only keeps dust off the bottoms of my work, but also prevents sticking.

My furnace is a top-gather electric unit. When charging the furnace with batch, the arm holding the scoop would get rather scorched - until I started wearing a Gott CoolSleeve. Now I don't even notice the heat. The CoolSleeve is also great forearm protection when working the lip of a large blown vessel. No longer do you need an assistant with paddles (which can block your view). Instead, the CoolSleeve offers comfort and mobility - a perfect combination.

You can email me if you wish more information. Better yet, check out the Gott Steamer Glass Shaping System at northernheat yourself.

The pictures here show Allan Gott wearing his CoolSleeve, and me wearing mine.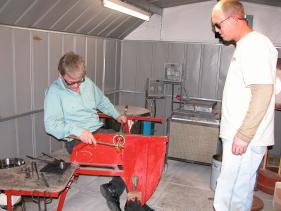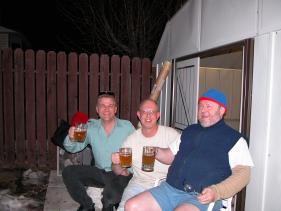 Ken Seitz Pipes and Punties
These pictures are of my glassblowing pipes and punties (I currently have two of each), made locally by Ken Seitz of Strathmore, AB.

The pipe has a 1 inch head on a 3/4 inch pipe, and comes with brass mouthpiece and leather wrap. The punty is a 3/4 inch to 1/2 inch step-down punty, and has brass end cap and leather wrap. The punty is constructed of stainless steel tubing (i.e. it's hollow) for light weight.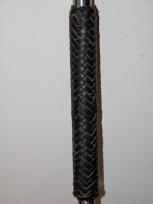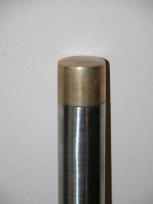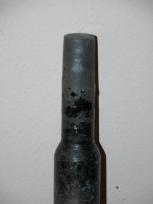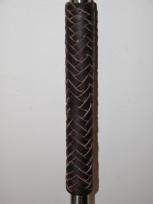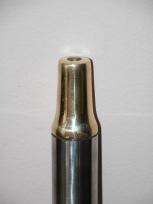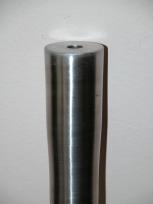 Mark Lauckner - Furnace Designs
Mark Lauckner of Mayne Island Glass is a superior designer of electric furnaces and kilns as well as a fellow glassblower. Mark sells excellent 'how to' videos for the aspiring studio owner.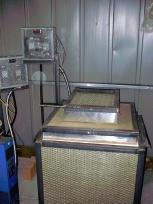 ColourFusion
Sylvie Jensen of ColourFusion is a supplier of glass color (bar, powder and frit). Sylvie is based in Canada, so her prices are excellent and the selection very good.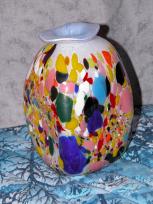 Spruce Pine Batch
When I first started building my electric furnace for the Tin Shack Studio, all my research pointed to people melting cullet in these "wire melters". However, the local gas-fired furnaces all melt batch. After talking to many of the local glassblowers, I decided that I wanted to melt Spruce Pine Batch in my furnace. Now, almost 1 year later, I am convinced that was the best design decision I could make.

Spruce Pine batch melts quickly, fines out wonderfully, and produces the perhaps the best, crystal-clear glass I've ever worked with. I was smart - I ordered a full skid (40 x 50lb bags) of batch in March 2004, so I have enough for a year's blowing! Check out Spruce Pine Batch Co. yourself.