Glassware made in the Tin Shack Studios from February 2004 to December 2004.

It's been a busy fall. I've been spending time making Christmas balls, plus some small vases. The latest work incorporates gold and silver leaf in the designs for an exquisite effect. Here are some pictures of my latest glassware, fresh from the Tin Shack Studio!


December 21, 2004 photos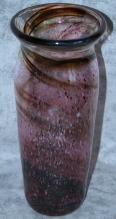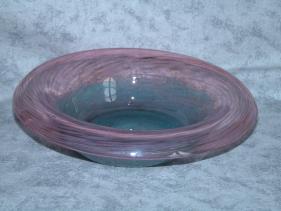 December 18, 2004 photos
I've been blowing at least once a week since December 2, but have posted all the photos in this one group, rather than after each session. There's a lot of work represented here - handkerchief goblet bowls, more granite work, and some tests with a mixture of various rose colors.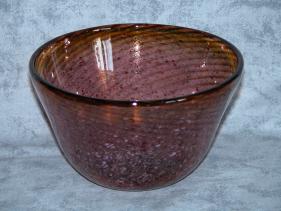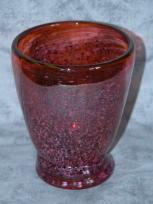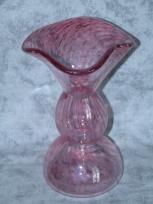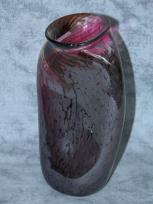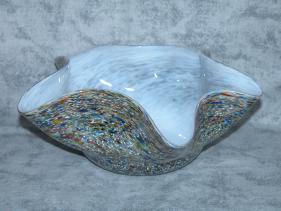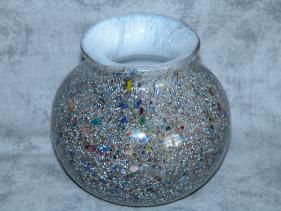 December 2, 2004 photos
Last weekend I was in Athabasca AB for a show and sale, and sold every item made on November 22 (except the 'reverse' plate which I didn't take). This past week, I've made some more large pieces, plus I now have the large plate/bowl that I picked up from Allan (the first picture, below). In addition to more Hiacynth-swirl and Rose-swirl work, I tried some new things, including a couple of smaller "Granite" vases, some handkerchief bowls and a shard pickup vase.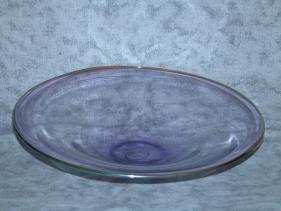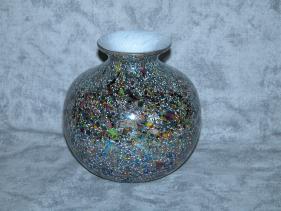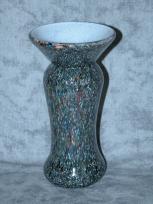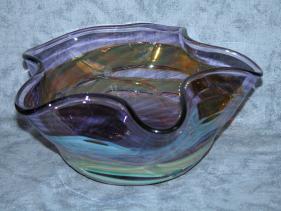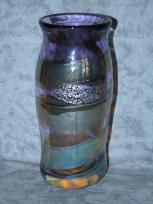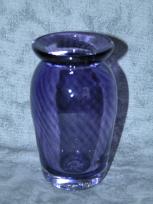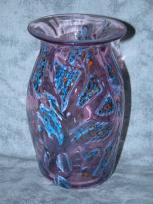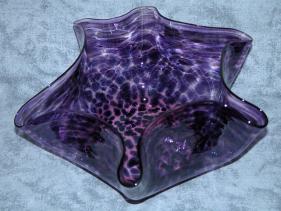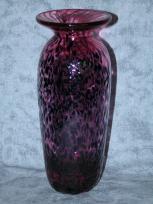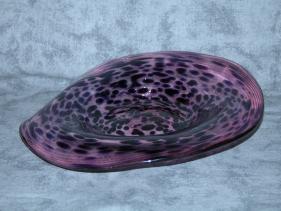 November 22, 2004 photos
Sometimes, you just want to blow "heavy". This past week I paid a visit to Allan Gott, and made a large Amythyst bowl in his shop (I haven't picked it up yet). That got me thinking about "blowing large" again in my studio - so this past weekend I did just that. The first two pictures are the result; both the bowl and vase are 3-gather pieces. I also made some smaller pieces, including what is likely my last set of Christmas ornaments, plus a small plate.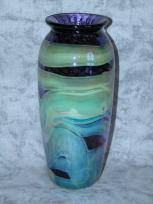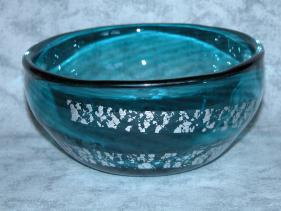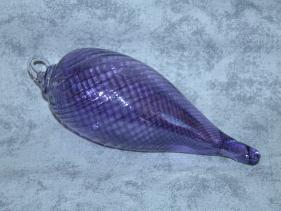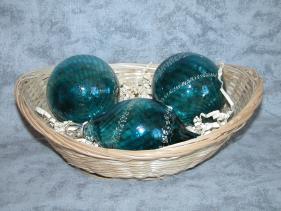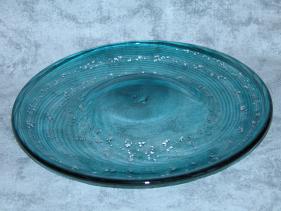 November 16, 2004 photos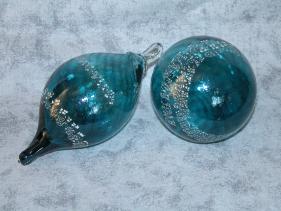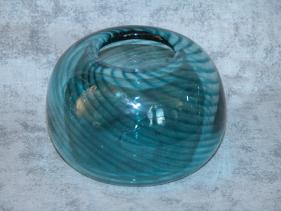 October 29, 2004 photos
Again with the new color from Sylvie! Today I made four larger (two-gather) pieces - two vases and two bowls (or a bowl and a dish). I used two color combinations, a blue and green base with topaz over top, and a two-tone green combination.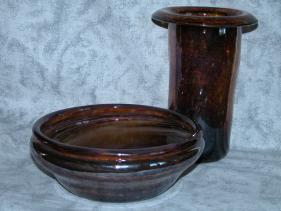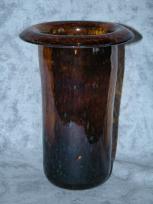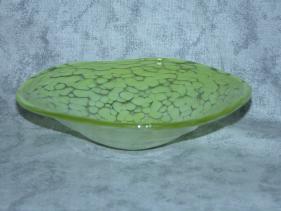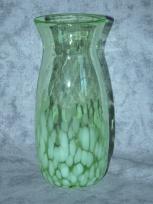 More October 29, 2004 photos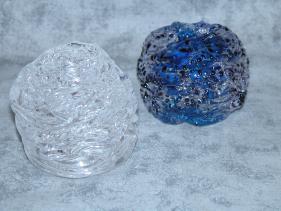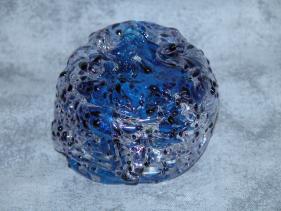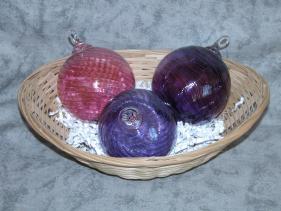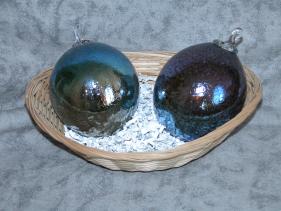 October 22, 2004 photos
Last night's Christmas Balls, using some new colors I received today from Sylvie at Colourfusion. The two black ones feature some gold leaf decoration.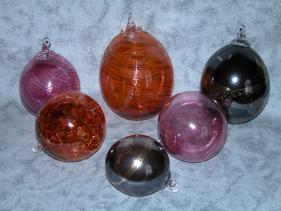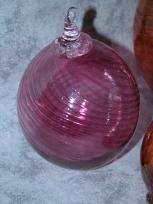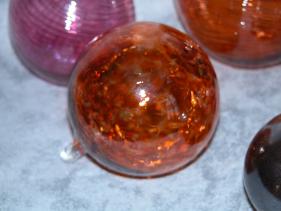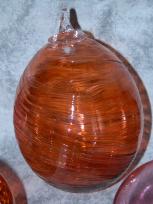 October 20, 2004 photos
I decided to try making some clear Christmas balls with a stripe of Silver Leaf in them. They worked out quite well, in large part thanks to the high quality of the Spruce Pine Batch I use to make my glass. I also made one very large Hyacinth Christmas ball. I've shown it in two pictures; one alone and one beside a clear ball to show it's size.

These Christmas balls are quite thin - thin enough that one 'popped' (literally) when I was placing them in a cardboard container for storage, just after taking the group picture.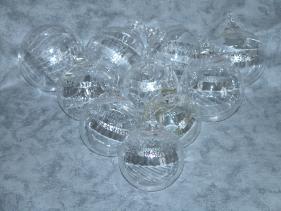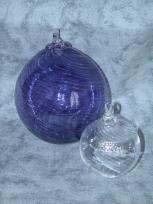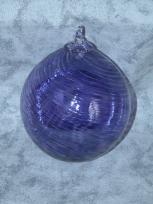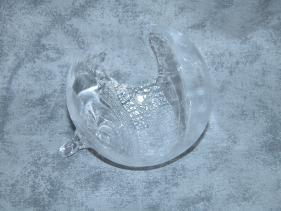 October 18, 2004 photos
Still trying out the new color from Sylvie at Colourfusion - today it was R14 or Hiacynth. Pictured here are a small (6") lace vase and an even smaller (2") perfume bottle. I reduced hyacynth on the perfume bottle, which gave it a nice 'silvery' effect.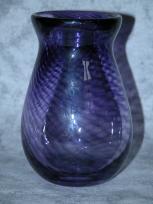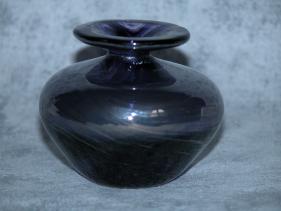 October 14, 2004 photos
I received an order of new color from Sylvie at Colourfusion, so I just had to make some new Christmas Ball Baskets. The new colors include three light greens, 'sea green' (the darker bluish green), gold yellow and amethyst.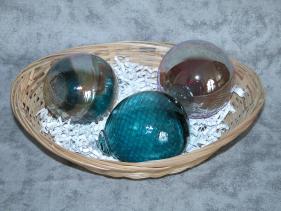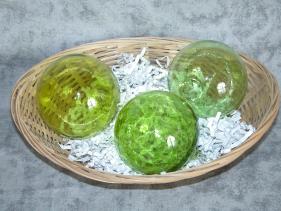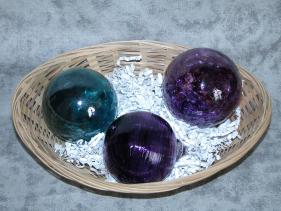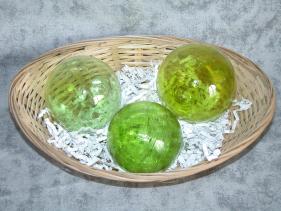 October 14, 2004 photos
These pictures show my Christmas Ball Baskets, plus a spiral paperweight and a "glass brain" paperweight.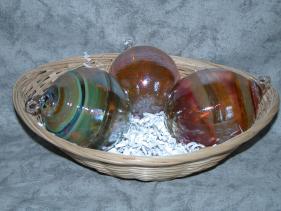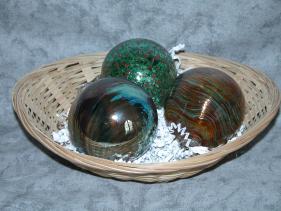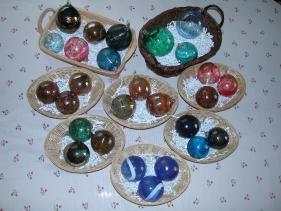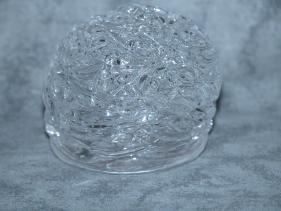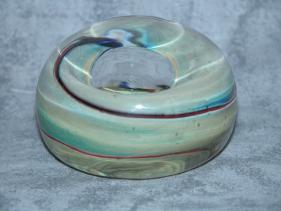 October 1, 2004 photos
This series represents some of my recent work with reducing colors and the 'lace' optic effect.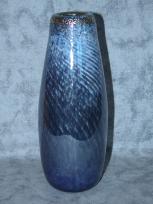 September 29, 2004 photos
Some Silvery Christmas balls and two smaller (9") vases that contain silver leaf.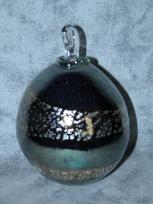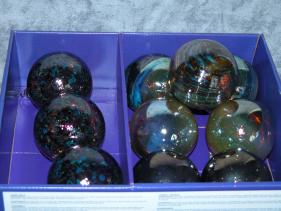 September 24, 2004 photos
Lots of Christmas Balls (various types) plus several gold and silver leaf smaller (9") vases. Oh, yea - I tried to make a black scuba tank, but it looks more like a stubby beer bottle!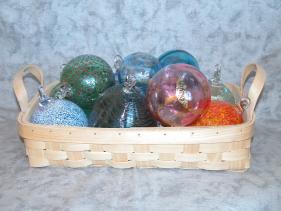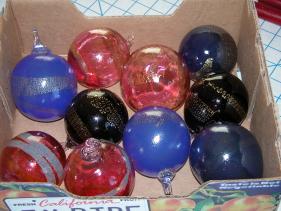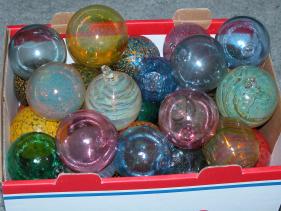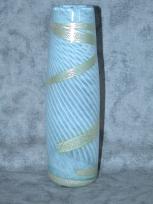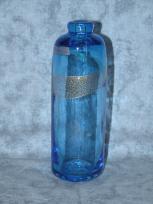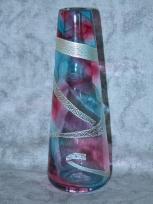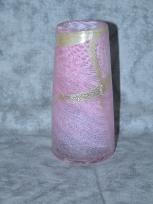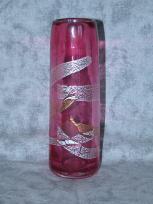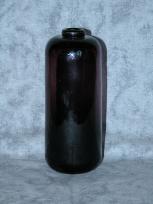 August 16, 2004 photos
Several pieces employing the lace optic effect, this time in medium grey (it looks green when finished).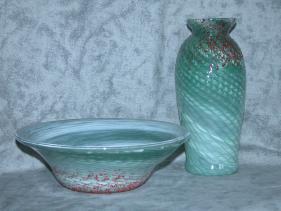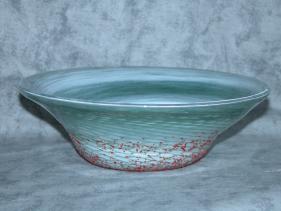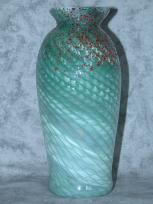 August 9, 2004 photos
A series of red swirled pieces - vase, bowl and paperweight.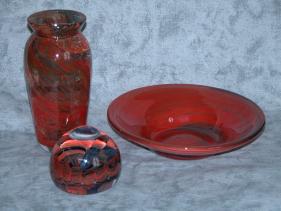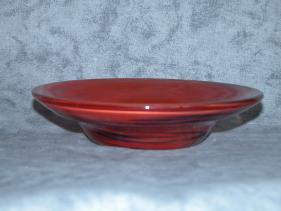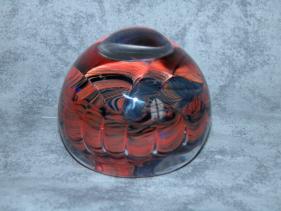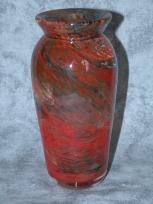 August 6, 2004 photos
Some very small (4") blue and white swirled bowls and dishes.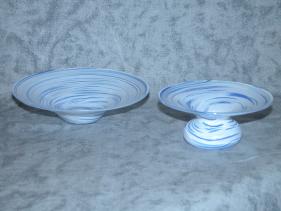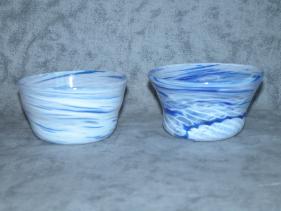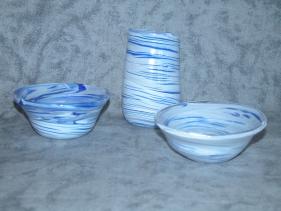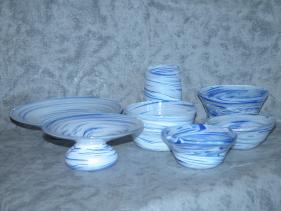 July 22, 2004 photos
Vases made with orange and white using the lace optic. The combination of orange and white produced this wonderful peach color.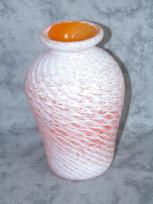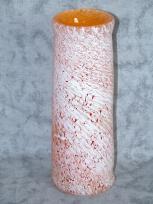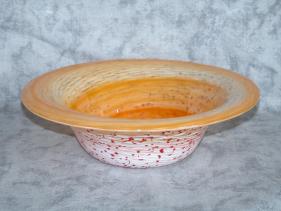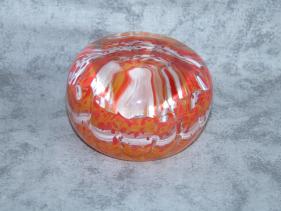 July 21, 2004 photos
A variety of pieces, including 'peach' colored lace vases, some solid bar made from colored glass cullet (supplied by Mark Lauckner), a smokey vase, and a plate made from the blue cullet.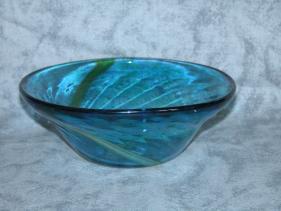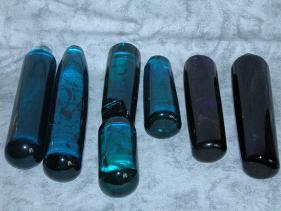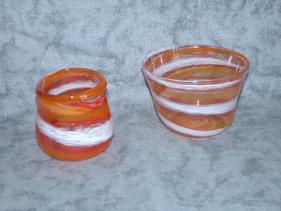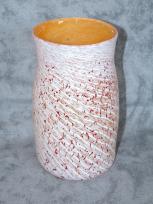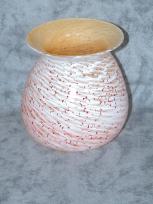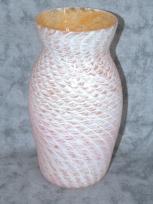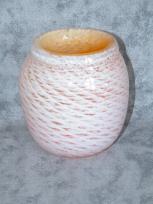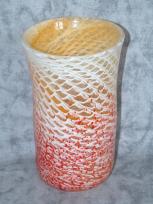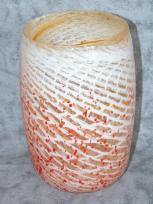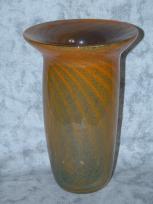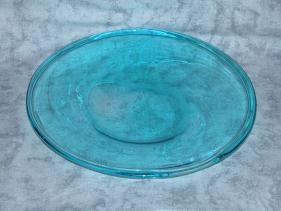 June 24, 2004 photos (from the Tin Shack Studio)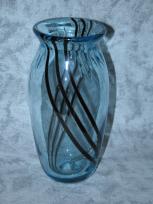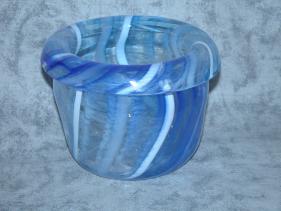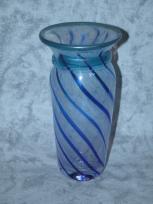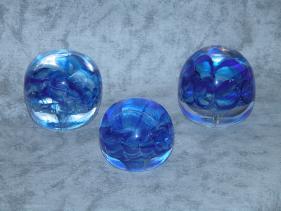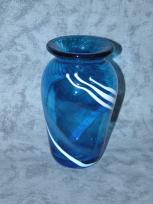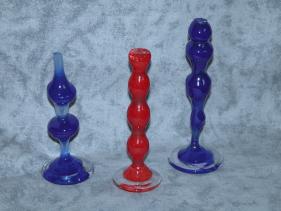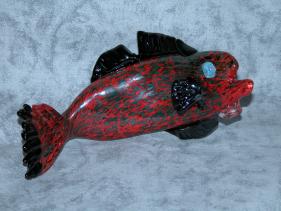 June 9, 2004 photos (from the Tin Shack Studio)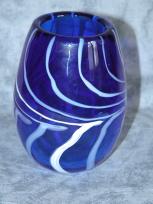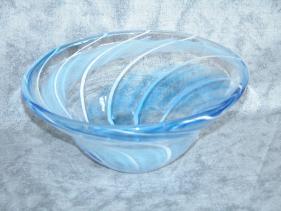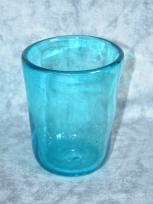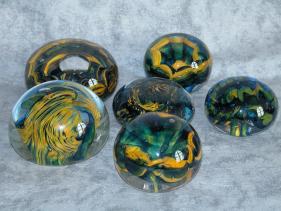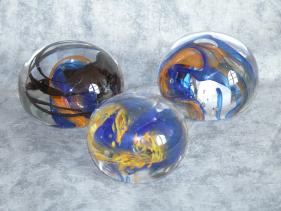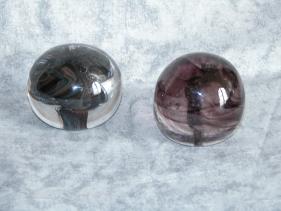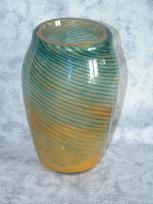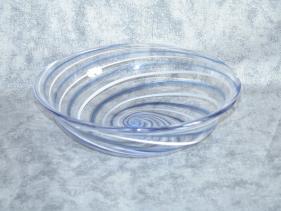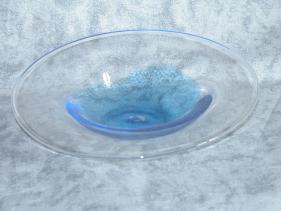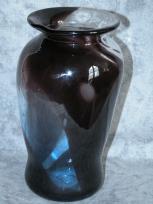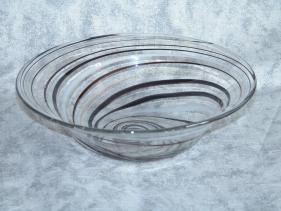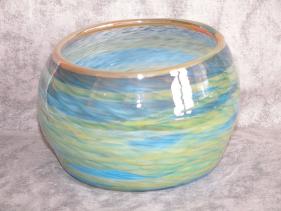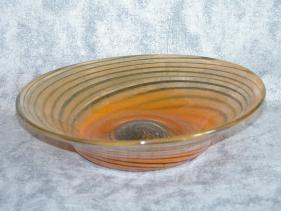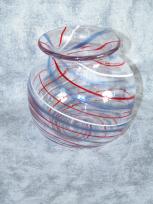 June 9, 2004 photos (from the Allan Gott's Studio)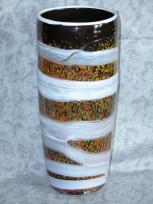 May 9, 2004 photos (from the Tin Shack Studio)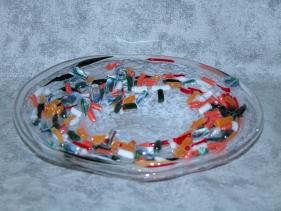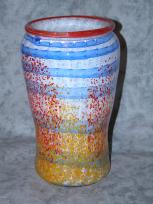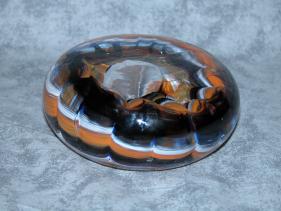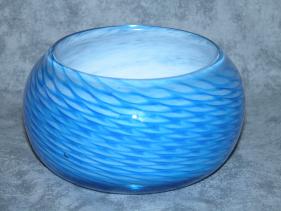 May 1, 2004 photos (from the Tin Shack Studio)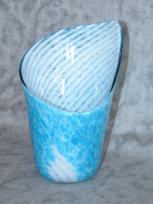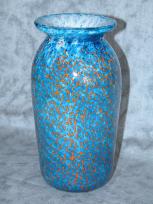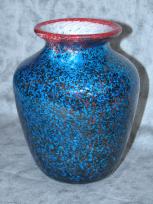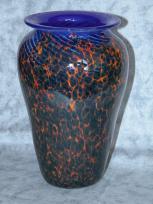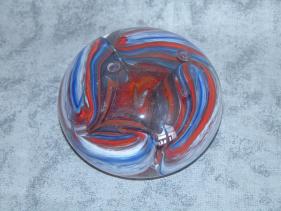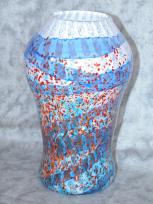 April 16 & 17, 2004 photos (from the Tin Shack Studio)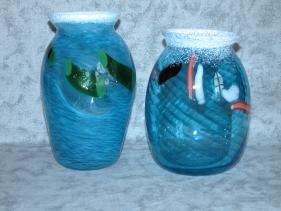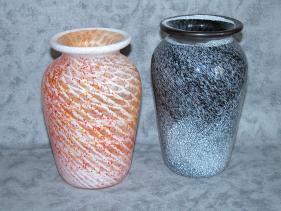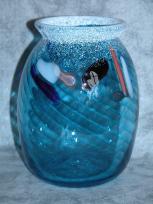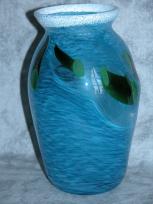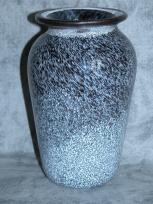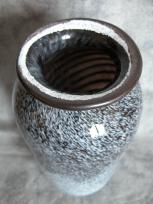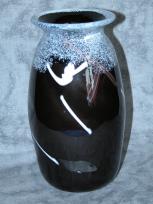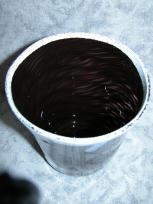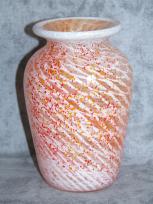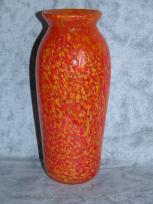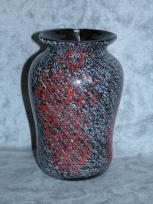 April 12, 2004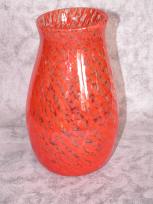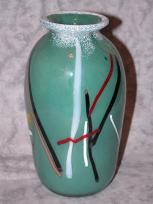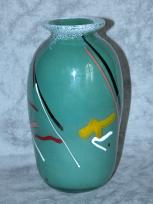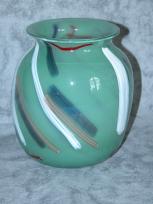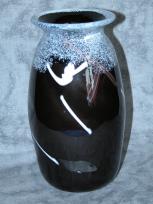 April 7, 2004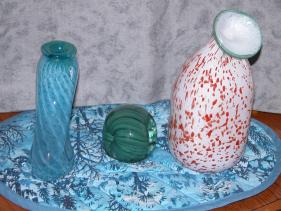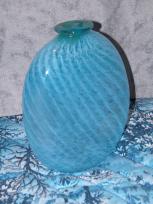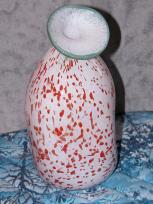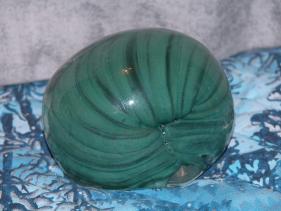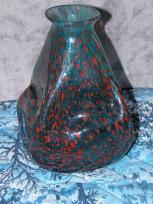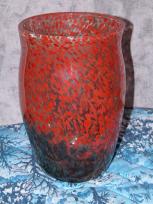 March 2004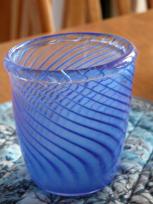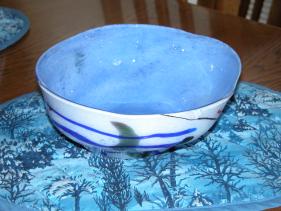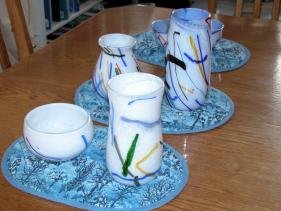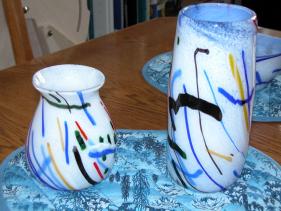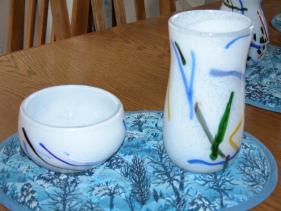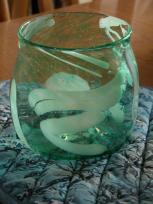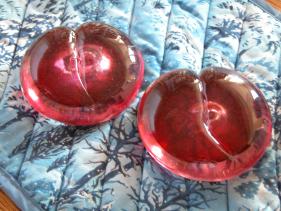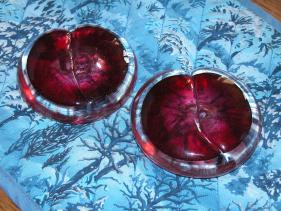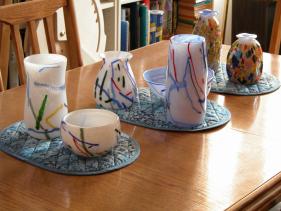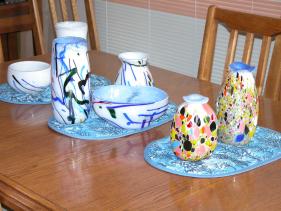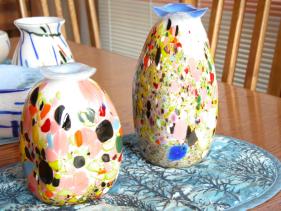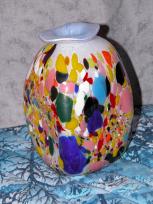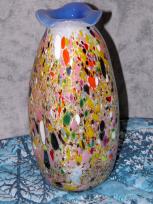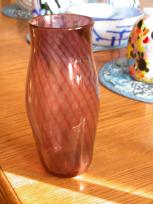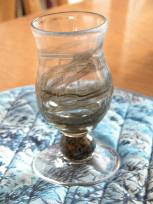 February 2004